BIWAC III Tunisia: Handover of the funding decision
Just in time for the start of the project, State Chancellery Minister Dr. Florian Herrmann handed over the funding decision for "BIWAC III Tunisia" to Volker Falch, Head of the International Division of the bbw Group, which also includes the Vocational Training Centres of the Bavarian Economy (bfz), at the beginning of September 2019.
BIWAC stands for Bavarian Institutional Water Cooperation. Since the beginning of 2017, the concept has been implemented by bfz in close cooperation with the Technologietransfer Wasser (TTW) project office of the Bavarian State Office for the Environment and the Bavarian Administrative School (BVS) in Tunisia.
The subsidy will be used for the qualification of specialist personnel in the Tunisian water industry. The trainers* trained and certified in BIWAC II will now independently train skilled workers* from the water supply and wastewater disposal sector. They will be accompanied both technically and didactically by Bavarian experts from the water industry. A basic course and in-depth courses in the field of water and wastewater are to be held regularly. These will take place in two specially equipped training rooms.
In cooperation with the Tunisian Ministry of Agriculture, Water Resources and Fisheries and the Ministry of Environment and Sustainable Development, suitable examiners will be selected in BIWAC III. These are to conduct the courses and certify the skilled workers in an examination board. The preparation of the exams and the certification will also be accompanied by Bavarian experts and presented in writing. This is intended to define the examination requirements and guarantee sustainable implementation. The concept for the independent continuation of the courses in Tunisia should also be worked out in cooperation so that skilled workers can also be trained beyond the project. This is the only way to ensure the sustainable operation of water supply and wastewater disposal facilities in Tunisia.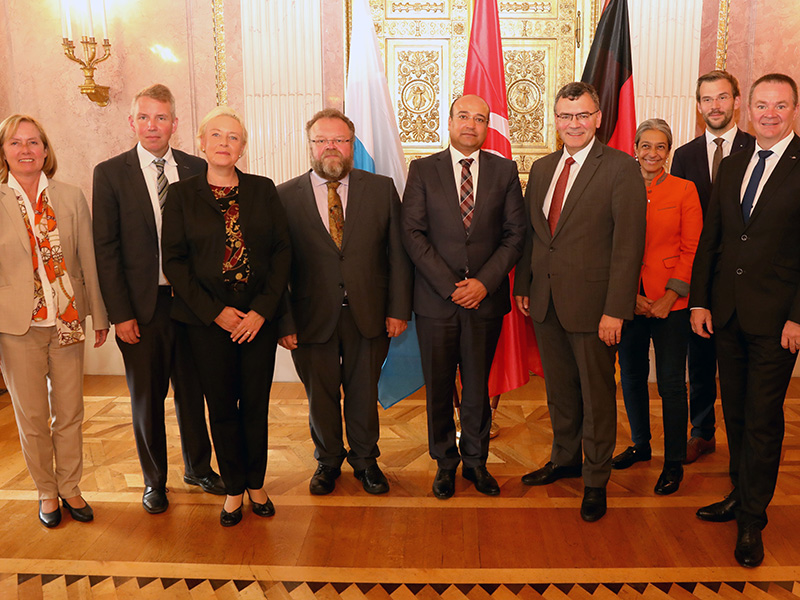 Photos: Bavarian State Chancellery