Successes with career(me) and career(BY)
For the third time the career(me) and career(BY) training projects carried out by the Bildungswerk der Bayerischen Wirtschaft (bbw) are taking graduates into the world of work. The projects are intended to support young people from Spain, Croatia, Bulgaria and Hungary without career prospects in training in Germany. The projects thus make an important contribution to reducing youth unemployment in Europe and to securing skilled workers in Germany.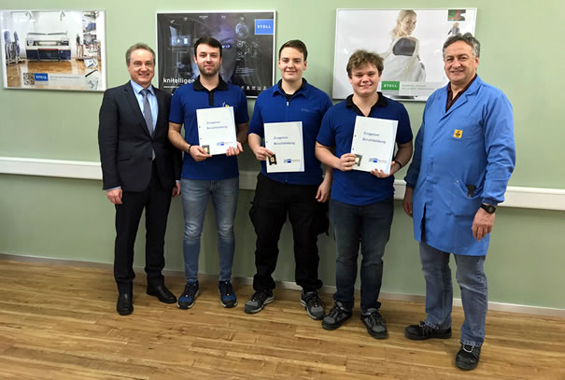 Passed! Now another 17 trainees from Cham, Traunstein, Deggendorf, Nürnberger Land, Weiden and Marktredwitz can be happy about it. Three and a half years ago they started their training in the metal and electrical industry, gastronomy or in crafts. The Bildungswerk der Bayerischen Wirtschaft (bbw) supported the trainees from the organisation and administration of subsidies to the planning of language courses. The special thing about this is the use of coaches on site. These coaches assisted the trainees with all their everyday questions and were also important contacts for the companies and vocational schools.
"An enormous challenge for everyone was the lack of language skills. This applied not only for the trainees from abroad but also for everyone else involved. Important keys to success were therefore the German courses offered and of course our project coaches who sometimes had to comfort homesickness as well," reports Janine Mayr, project manager.
Vedran Maglica, Croatian graduate from Cham was one of this year's graduates and said: "I can say it wasn't easy. Especially at the beginning with the language. Last almost two months was totally stressful, but now it's all over. I accomplished everything. I'm staying in Germany and I want to develop myself."
Vedran is now a trained electronics technician for devices and systems and was directly taken over by his training company Stoll Electronics GmbH.
Particularly pleasing: All other graduates of this year have already signed a contract as specialists in the training company and will thus remain in Germany for a longer period of time. This brings the total number of 92 trainees who remained in Germany after graduation to 86%.